#SOchats with Naomi Hello and welcome to our December SOchats. I'm Naomi Chaitkin Nimmo, the Executive Director. We started this monthly chat room so we can answer your questions and talk about the orchestra and the response has been great! Please keep the comments and questions coming. Thanks.
Q:  I bought season tickets for myself and a friend. Why isn't my friend receiving emails from the orchestra?A:If you didn't give us your friend's name, address, and email, we have no knowledge of them and therefore 1) can't send them anything, and 2) will not be sending them a renewal notice for next season.  So… ANYONE who bought season tickets for friends and didn't give us their information, please email (office@summervilleorchestra.org) or call us (843-873-5339) asap so we can include them in mailings and renewal notices. Thanks.

Q: What do I do if I can't find my season tickets?A: Don't fret. At the 3 box offices at every concert, there is a list of everyone who has season tickets. Just tell the box office volunteers that you can't find your tickets and they will give you replacement tickets for that concert.


Interviews with the Musicians….sort of

Naomi Chaitkin NimmoExecutive Director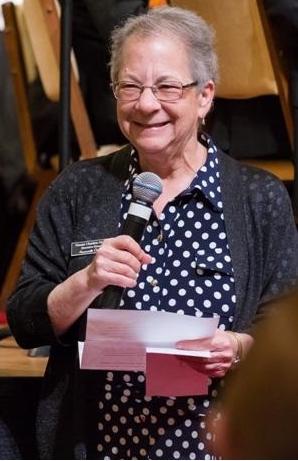 I've been asked to interview myself. So for this month, here goes: I was born and raised in Pasadena, California, the youngest (by 8 minutes) of five. My father, Jacob Chaitkin, was an attorney from Riga, Latvia, who
did the first class-action suit ever and it was against Hitler and he won!
He also taught at CalTech. My mother, Janet, a pianist, who also worked
at CalTech, was from Brooklyn, NY.

My mother and brother David, a pianist and composer, started teaching me piano when I was very young. I loved playing music and started formal lessons at age 9. My twin sister played violin and we played duets a lot. I found that making music with another musician was a joy unrivaled.
But when I was assigned to junior high school orchestra as the pianist, I
found sitting in the back of the orchestra wasn't much fun. So I asked
what instrument I could play to be closer to the front. The conductor gave me a cello, put me in a practice room with a beginning book and said,
"When you finish the book, you can join the section." In a few months I became 2nd chair cello. What a thrill to play in an orchestra and learn all the wonderful classical music! I continued playing in orchestras through college, all the while studying piano.
I was a piano performance major at the University of California at Berkeley where I received my Bachelor's Degree. It was the 60s and yes, I was a hippie! At Berkeley, I found a new calling: conducting. My goodness, the glorious feeling of standing in front of an orchestra, giving the downbeat and hearing the whole orchestra play the first note… to me. The sound, the power. I was hooked. So I went to the San Francisco Conservatory of Music for my Master's degree where I was the assistant conductor of their orchestra and conducted the first Sing-it-Yourself Messiah at the Conservatory. I got my Master's in Accompanying (long story) and during that time I married the tuba player in the San Francisco Symphony, Floyd Cooley. We toured the U.S., played at Carnegie Hall and the Grand Teton Music Festival, and made a record, now a CD and available on Amazon. After we divorced, to make money, I went to work for a CPA firm doing accounting, finance, tax, and investments for five years. But I felt like I needed to get back to music, even though I loved the intellectual stimulation of accounting. I heard about a career in arts administration where I'd be part of music, just on the other side of the curtain. So I enrolled at Golden Gate University in Arts Administration and got my MBA. During that time I remarried, an airline pilot, and had a son, Joshua, who is now an attorney in Washington, DC. After I got the MBA, I worked as Executive Director for a chamber orchestra, Sinfonia San Francisco. Then for Tim's job, we moved to South Carolina 5 days after Hugo and 2 weeks before the San Francisco earthquake. What timing!
Since there was no orchestra in Summerville at the time (Summerville Orchestra started in 2003), I got the Executive Director position at The Flowertown Players. Basically same administration, different on stage. In the early 2000s, I taught Financial Management and Fundraising in the Arts Management department at the College of Charleston. That was quite rewarding, helping young people learn about management of nonprofits. One of the classes was on embezzling because if you don't know how to embezzle, you can't catch it. The students loved that class!
After 15 years with the theater, I quit and interviewed for the Executive Director position with the Summerville Orchestra. It will be 10 years on Feb. 1, 2019, that I've worked with this orchestra. A wonderful ten years.
Besides playing music, my favorite things to do are: Giving away money! I get to do that as a judge for the Low Country Quarterly Arts Grants; being on the Music Committee for our orchestra – we have a blast; also, talking about music and arts administration, visiting with my friends, reading, playing games, designing posters and brochures, doing financial statements, writing grants (well, not necessarily writing them but certainly receiving the money for the orchestra) and, most of all, being with my son Joshua.